Enjoy Akizuno Garten
◆weekdays 11:30 ? 14:00
◆ weekends and holidays
  11:00〜14:00
Click

Akizuno Mikan Classroom 'Karatachi'
admission free AM 10:00 ? PM 4:00
reservation required jam, juice, cookies, and cake using local citrus fruits and vegetables
reservation required
Mikan September, 20 to July, 20 vegetables are available all year round
Inquiry / Reservation 0739-35-1199(+81-739-35-1199) 
Slow Food Lunch Buffet

Slow food lunch buffet in a farmer's restaurant Miknbatake
 It is inside Akizuno Garten facility.
There are 30 kinds of special dishes made from local ingredients by local mothers. We are particular about local production for local consumption, so using vegetables from garten agricultural farm club or local farmers. Please enjoy safe and homemade cuisine.
Open
weekdays 11:30 ? 14:00  weekends and holidays 11:00 ? 14:00
(please enter the restaurant until 13:30)
Reservation
isn't available for slow food lunch buffet.
Fee
over 12 years old 1,300 yen
elementary school student 800 yen  
three to 6 years old 500 yen
It is limited to 100 people in a day.
Click here for the details


 Slow Food Lunch Buffet in a Special Room (for a group)

You can enjoy buffet lunch in a class room of a wooden schoolhouse.
Available for a group which can enter the restaurant between 11:00 to 13:00.
Only for a group of 25 to 40 people
Reservation required please make a reservation a week ahead.
Fee over 12 years old: 1400 yen
Call at 0739-35-1199

Click here for the details

Sweets Workshop Valencia-batake

TEL 0739-35-1187  FAX0739-35-1192
Open:am 11:00〜pm 4:00
Shop Holiday:Tuesday(only Valencia-batake)
(If Tuesday is a holiday, the store will close next day instead.)

It stands in the courtyard of Akizuno Garten. They sell sweets and also you can have experiences of making sweets in Valencia-batake. There are mikan throughout a year in Akizuno which can be used for sweets. Please stop by Valencia-batake after enjoying lunch at Mikan-batake.
For more information, check Valencia-batake website.

Mikan Resource Center; Akizno Mikan Classroom Karatachi
On the second floor of the old wooden schoolhouse, there is Akizuno Mikan Classroom Karatachi, a handmade resource center of mikan, which was made by a farmer group in Kamiakizu. There shows a history of mikan cultivation in Akizuno area, properties of different kinds of mikan, systematic chart, and nutritive value of mikan.
To remain the classroom ambiance, explanatory text and illustration are written with chalk on the blackboard and the display is on the wooden board.
When you come to Akizuno Garten, please stop by and look around Karatachi classroom.
Admission Fee: Free Open: 10:00 ? 16:00

Kumano Hayagakemichi
rose up and Akizuno Garten is the starting point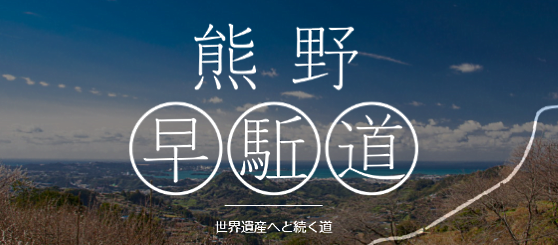 Road to a World Heritage Site 
Kumano Hayagake-michi
It is about 10 kilometers path with rich in preserved nature scenery of Japanese satoyama, a mountain village, from near Akizuno Garten in Kamiakizu to Nejiki-no-Sugi in Nagano. This hilly route is also a shorter way from Tanabe to Kumano. On the way, it offers a lot of exciting sites to explore; Senko-ji temple with a history of 1200 years, Jyuo-do, Fudo-ji temple related with a hero of the battle of Genpei: Nasu Yoichi, Hachiman-jinja shrine, Kofuku-ji temple, Hirune Chaya with a panoramic view of Tanabe bay, and Nejiki-no-Sugi related to the legend of Anchin Kiyohime. Nejiki-no-Sugi connects to Shiomi-toge pass of Kumano Kodo, the world heritage, and reaches to Takijiri-oji. This road was also used by Minakata Kumagusu for botanical survey. Why don't you stay at Akizuno Garten and try a new route to Kumano Kodo.

Japan Authentic