There is another spot to see in Akizuno Garten.
Free admission [A.M. 10:00- P.M.4:00]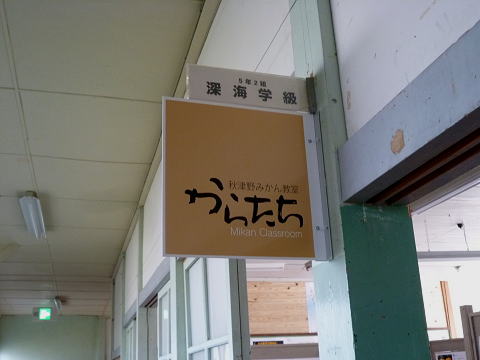 A group of Mikan farmers (Kinan Bankan association of kindred spirits) in Kamiakizu corrected the documents of history of the area and kinds of mikan, and opened 'Akizuno Mikan Classroom Karatachi' on December 5th in Akizuno Garten.
Mikan cultivation was started in late Edo Era in Kamiakizu.
Now, there are about 80 kinds of mikan throughout a year in the area. People in the area also process mikan as fresh juice and jam and sell them, and regional development is processing with Mikan cultivation as a core.
By learning mikan cultivation and regional culture, the famers group prepared and opened Karatachi to rediscover the charm of the area and lead to increasing the exchange population.
Akizuno Garten reused a wooden schoolhouse, and Mikan Classroom is on the second floor of it. There shows a history of mikan cultivation in Akizuno area, properties of different kinds of mikan, systematic chart, and nutritive value of mikan. There are also old tools which used to use once such as a basket and a meter.
To remain the classroom ambiance, explanatory text and illustration are written with chalk on the blackboard and the display is on the wooden board.